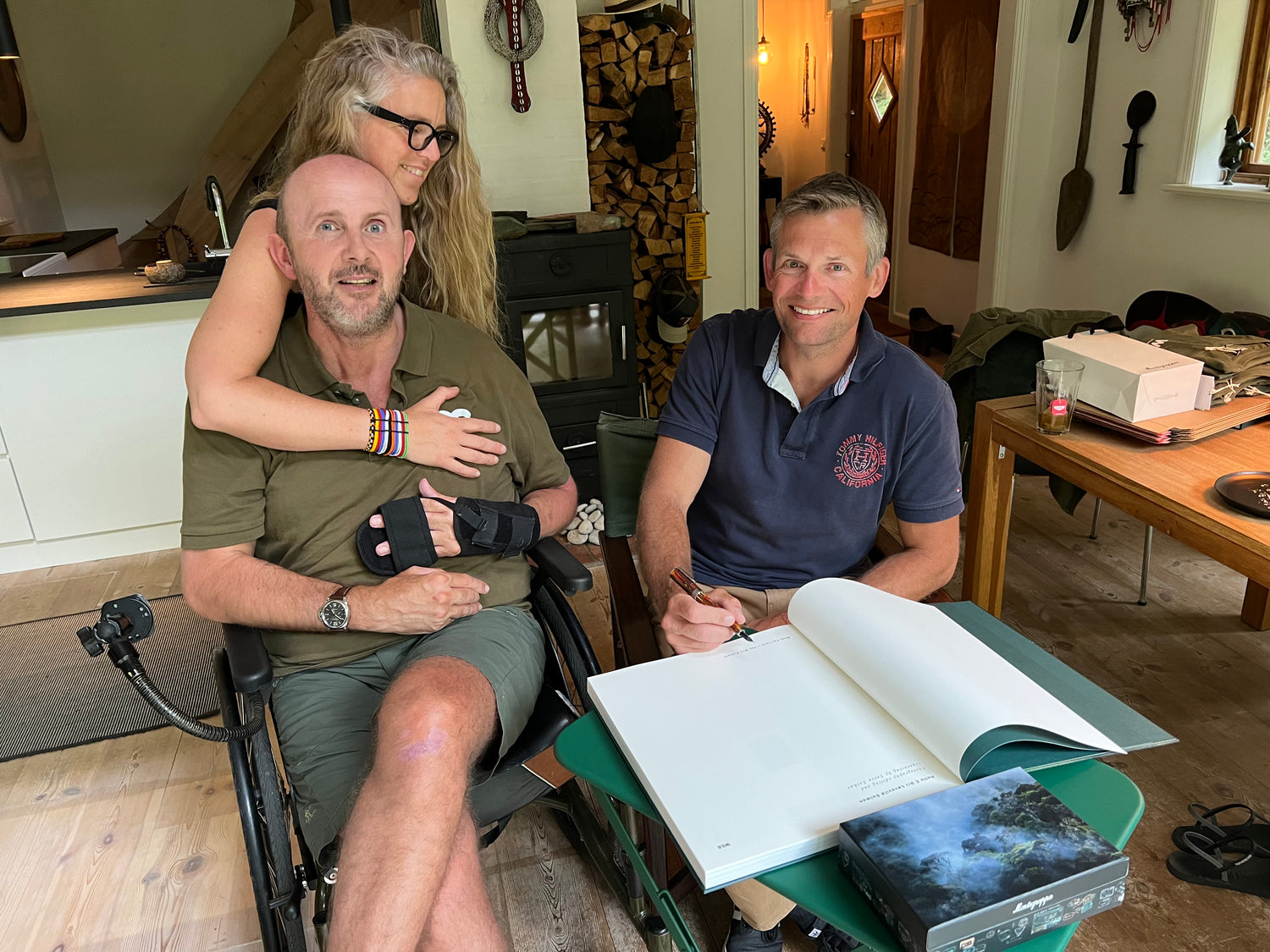 The astronaut and us
Denmark's first and only person in space, astronaut Andreas Mogensen, chose WILD Nature Foundation as the organization he wanted to represent as ambassador on his HUGINN mission to the International Space Station, ISS, in 2023.
Meeting WILD NF's founders Helle & Uri Løvevild Golman in their home in 2022.
Andreas M WILD-share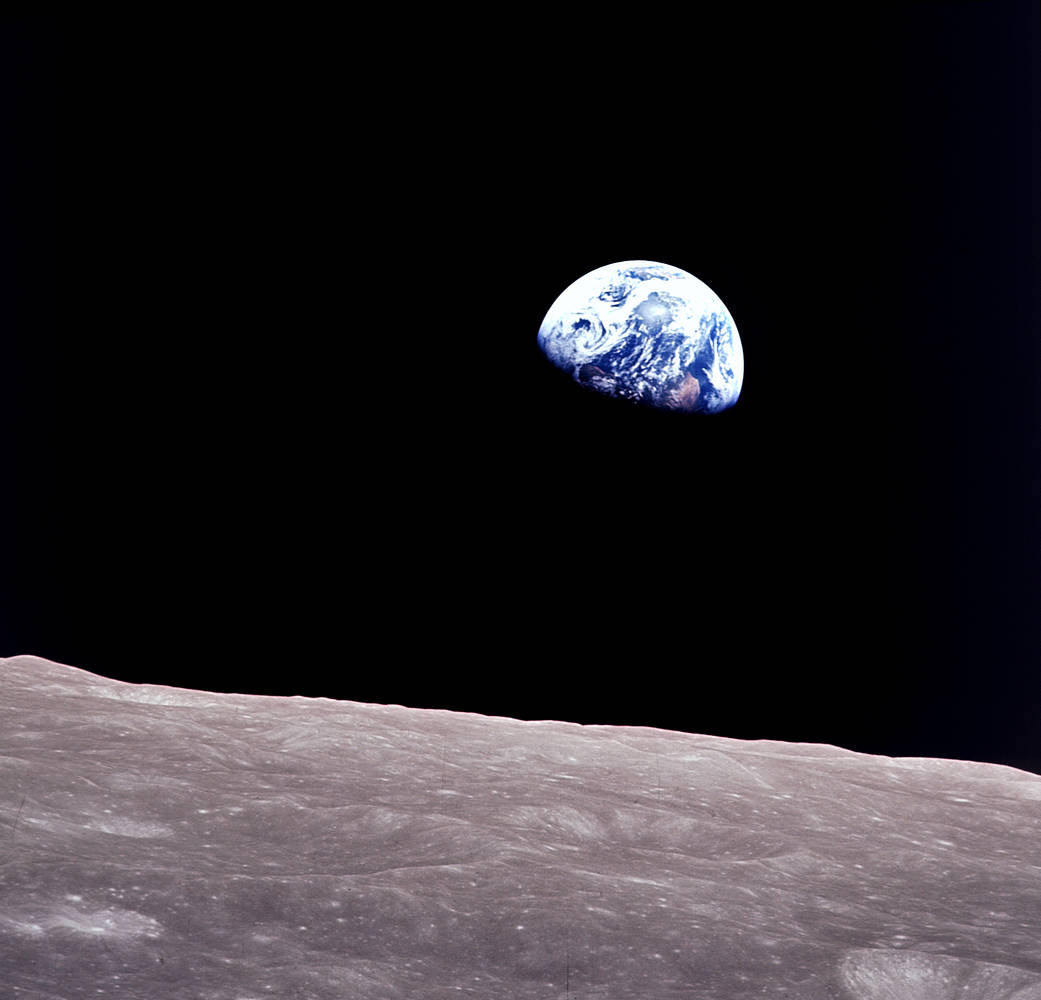 Andreas and Earth
Andreas has a very speciel way of regarding Earth that is called " the astronaut's view". When he and other astronauts look down at us from 400 km out in space, they see a bright and beautiful blue planet floating all by itself, alone in the dark universe only protected by a thin and vulnerable atmosphere - an entity, a wholeness, without any other visible boundaries than those between land and sea. We only have this one life giving place and we have a common responsibility to protect it. That's why Andreas also like our motto: What you love - you will protect.
Photo: NASA. Apollo 8. Earthrise
The Ambassador
With Andreas as ambassador for WILD Nature Foundation we have been given an even louder voice for nature and the wild animals. Everything regarding space travel is fascinating but in this connection Andreas wishes to move the conversation to the need for the protection of the World's wild animals and wild nature. We do that by sharing posts on social media and by Andreas taking photographs from space of some of the places Helle & Uri have photographed on Earth – plus of course of our project WILD Campo Alegre in Colombia.
Andreas waves to friends and family who have come to the Kennedy Space Centre to witness his launch a couple of days later.
The Biodiversity sphere
- or the "spaceball", as we call it. The European Space Agency, ESA, gave us the opportunity to send some items into space with Andreas. We chose a T-shirt with our logo and motto and the cover of Helle & Uri's WILD book, that contains the photos Andreas will recreate from space. But we also wanted life on Earth to be present in a more direct way, so we came up with the idea for this rather special biodiversity sphere, that we hope will initiate some dialogue. The sphere is about the size of a billards ball and moulded in transparent epoxy. Inside are examples of biodiversity that we think represent life on Earth and the biodiversity crisis we're facing:
Fur from a chimpanzee and a feather from a snowy owl. They're both endangered by climate change. (Donated by Copenhagen ZOO)
A piece of coral, that represents the oceans and a piece of charcoal, that represents the atmosphere and climate change.
A piece of isua rock – from Isuakasia near Nuuk in Greenland, that contains almost all the building blocks of life and is the oldest know proof of life on Earth. (Donated by Naja Mikkelsen)
Leaf from a cycad, a type of plant that was existed on Earth at the time of the dinosaurs and a leaf from the Australian pine Wollemia nobilis, one of the most endangered trees in the World. (Donated by the Copenhagen Botanical Garden)
Last but not least: a bee. Probably the closest we get to an icon for biodiversity.
The Biodiversity Sphere is moulded by designafdelingen.dk
Andreas M WILD-share
Andreas also supports our work by having signed a small stack of WILD-shares, that we sell at a higher price than normal shares. Click on the link above if you want to get a very unique share and at the same time support a cause close to Andreas' heart.